GRATA Restaurant & Wine Bar
Address:1076 First Avenue, between 58th and 59th Streets
Reservations strongly suggested; 212-842-0007
Hours: Dinner (starting early next year Grata will serve lunch.)
Monday-Thursday: 5 pm – 11 pm
Friday and Saturday: 5 pm – 12 am
Sunday: 5pm -10 pm
Grata Is A Welcome Addition to the Midtown-East dining Scene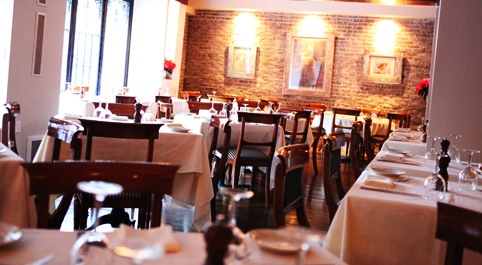 If you haven't noticed, "The Sutton Place Area," the Grand Dame of haute New York Neighborhoods, is in the midst of a dining renaissance. The new breed are not the cramped, hole-in-the-wall, no-frills stores that were the rule, but fine-dining, tablecloth restaurants with good service, excellent food, appealing wine lists and, wonder-of-wonders, prices that won't break the bank.
One of the best is Grata. From the moment one walks through the 1st Avenue door, taken and restored from a 1920's Roman villa, they are welcomed by the visions of the NYC-based designer: C3D Architecture PLLC.
From the cream-colored, beamed ceilings, sections of blanched, exposed brick walls, and handsome tables made from huge chunks of rich cordova-colored mango wood from Indonesia, the attractive 85-seat restaurant pleases the eyes with its hardwood floors, and a long curved bar that greets guests near the entrance. Single diners can ease into an inviting communal table that looks out on First Avenue. (Outdoor seating begins in the Spring).
The Spacious Elegant Booth Seating (Above)
Grata, is a restaurant serving world-cuisine with Mediterranean influences and doesn't dwindle its efforts on a single country or region..After nearly six years, a long shuttered prime Midtown location (formally a Greek, then Middle-Eastern restaurant) has new life.This hot, newcomer to the food scene displays the pedigree of its creators and chef, and is a welcomed invitation to success . . . . which brings us to the restaurant's name.
GRATA is Latin for a type of welcome. Originally, grata connoted being "under the protection of." Now, it's become the proprietor's promise: "You are going to be well-taken care of here."  On a recent Friday evening, the room was packed by 8 PM and, to these eyes, the customers all looked like happy campers.
Taking care of restaurant-goers has been the life's work of the charming Ariel Lacayo (late of Il Mulino in Aspen, Pino Loungo's group, Patria on Park Avenue South, and other food landmarks.) He runs the front-of-house, as well as holding a "Court of Master Sommelier's" certification and has personally built the wide-ranging wine list, in addition to the all top-shelf bar.
The magic in the kitchen is administered by the boyishly good looking executive chef Meny Vaknin; most recently part of the opening team for Boulud properties (Boulud  Sud and Bar Boulud at Lincoln Center.) Chef Meny cut his culinary teeth at Rose Water, the fine-dining establishment in Park Slope. He honed his practice of using local and seasonal ingredients in haute cuisine at the French Culinary Institute, where he graduated with honors.
GRATA's creator/owner is Mirso Lekic, the mastermind and owner of the storied and much-missed Il Valentino restaurant. Mirso, a life-long food lover and businessman tends to the back-of-house and the kitchen with Chef Meny.
The menu boasts tempting selections with shared dishes and appetizers such as fetching Mini-Meatballs with stewed tomatoes, poached egg (cooked into the sauce), and croutons (a chef's specialty), and Grata's homemade Flat Bread (which can be made gluten-free). We also loved Chicken Liver A La Plancha, with onion marmalade, roasted peppers, olives and brandy, Grilled Artichokes and a ravishingly delicious and tender Charred Baby Octopus on warm marinated chickpeas and fennel puree.You don't have to be vegetarian to enjoy Fried Cauliflower Florets herb tahini and cherry tomatoes.
The Knockout Bouillabaisse (Above)
Although one can live on appetizers alone, it would be a shame to miss a variety of carefully prepared entrees like a moist Grilled Red Snapper Fillet with roasted new potatoes, cauliflower puree and salsa verde, Slow-Cooked Crispy Duck Leg with creamy polenta, sherry wine and raisin sauce; a really unique Ras El Hanut Braised Lamb (like Osso Buco) with dried figs, market carrots, quinoa, and almonds or our personal favorite: an unorthodox  Bouillabaisse, redolent with herbs, spices, mussels, calamari, seafood and basmati rice. Spread some of the saffron aioli on the country bread that accompanies it and you will experience a dish worthy of a visit in itself. Absolutely fabulous!
Pastas have improved greatly since the first weeks and Grata has had time to mellow. House – Made Oxtail Pappardelle with labane and parmagiano-reggiano still needs a bit more cooking time, but House-made Cavatelli (also gluten-free available)  in sun – dried tomatoes and basil sauce, was perfect and a marvel of this notoriously abused noodle.Highly recommended.
Bread is fresh and offered with oil and Balsamic vinegar; cocktails are generous and well made. Ariel has created a thoughtful list of food-friendly wines, starting at $30 a bottle with some offbeat and classy selections such as the Hall Napa Valley Cabernet Sauvignon in the $90 range. Serious oenophiles will find some hidden treasures at expectedly higher prices. There is a terrific Spanish red from the Ribera del Duero region, reminiscent of a good Pesquera for $15 a glass. Put yourself in his capable hands and relax. Service is just as it should be: attentive, helpful and unintrusive.
Desserts by former "21" Club pastry chef (Pictured Below) and one of the 10 best pastry chef's in America, Kimberly Bugler,
are classy, pretty as a picture and totally delicious. Favorites include a version of Bomboloni (Pictured Above), the famed Italian donut, made light as a feather with brioche dough, sprinkled with powdered sugar and decked out with with strawberry balsamic and chocolate dipping sauces; Apple Nut Tart Cinnamon spiced apples with almond cream, toasted walnuts and caramel sauce, a lovely Vanilla Bean Panna Cotta With Citrus Cranberry Compote and Polenta Tuile, and a deadly and decadent Nutella Napoleon, with Layers of Crispy Hazelnuts, Dark Chocolate and Nutella Mascarpone served with Hazelnut Biscotti Gelato Coconut Pineapple Financier Anise Poached Pineapple, Mango Sorbet, Toasted Coconut Tuile. (The haunting crunch is provided by the secret ingredient: cornflakes). We have enjoyed Ms. Bugler's creations at "21" and these are some of her best efforts, ranking Grata's desserts as not only the best in the Sutton Place Area, but worthy of Manhattan's most celebrated restaurants.
Grata is the best thing to happen to The Sutton Place Area in years, and we are pleased to be the first to review it. Already discovered by foodies and the neighborhood crowd, reserve in advance and we think you will agree. And yes . . . . you will very definitely feel WELCOMED.
Copyright 2012 By Punchin International. All Rights Reserved.
The Trio Responsible For Grata: (Left to Right) Mirso Lekic, Meny Vaknin, Ariel Lacayo